S E R V I C E
We've serviced over 50,000
shocks, forks and seatposts
Let us get yours dialed too.
+ Schedule Service +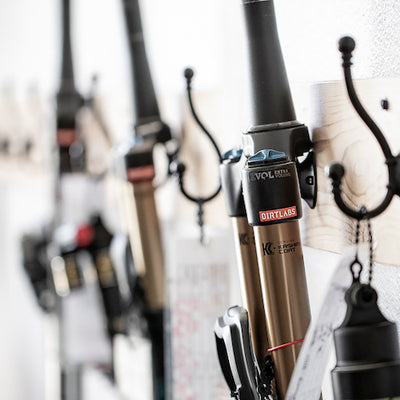 The 15 year Mountain Bike Suspension Professionals
Discover the unmatched quality of Mountain Bike Suspension Services

At Dirtlabs Suspension, we take pride in providing the best service for all your suspension needs. Our 15 years of suspension only focus and factory-trained technicians means we can deliver a better than new suspension experience in a quick turnaround.

Why Regular Suspension Service is Essential
Suspension performance may decline gradually over time, often without riders noticing. To ensure optimal performance and avoid costly repairs, it is crucial to service your suspension regularly.

Lubrication and Damping: Your front and rear suspension systems rely on oil to lubricate and dampen the shocks as they traverse through their travel. Regular servicing replaces the oil, seals, wipers, and other components, ensuring proper lubrication and maintaining performance. Neglecting these maintenance tasks can lead to decreased performance, bushing and stanchion wear, and ultimately require expensive parts replacement.

Recommended Servicing Interval:
Most manufacturers recommend servicing your suspension approximately every 125 hours or at least once a year, whichever comes first. Adhering to this schedule ensures your suspension remains in top condition for an exhilarating riding experience.